Blog
Monday, 14 May 2018 00:00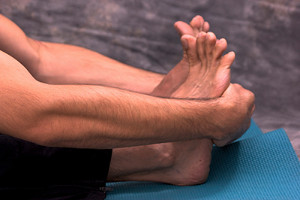 Stretching the feet not only feels good, but it will benefit the entire body. The feet are considered to be the foundation of the body, and research has indicated the muscles, tendons and ligaments become stronger when proper stretching techniques are performed. Implementing a yoga practice into your daily routine, which generally incorporates foot stretches, will aid in strengthening the ankles and toes. When the feet feel strong, proper alignment in the body will become attainable, which could allow daily activities to become more manageable. Correct foot stretches may also aid in the prevention of medical conditions including bunions and heel pain, which may typically be referred to as plantar fasciitis. An effective stretch is referred to as a towel stretch, and this involves putting a towel underneath your foot. At this point, moving the toes to grab pieces of the towel will aid strengthening the arch and the toes. Pointing and flexing the toes is a popular stretch of the entire foot, and it's relatively simple to perform.
Stretching the feet is a great way to prevent injuries. If you have any concerns with your feet consult with Dr. David Ungar from Personal Foot Care. Our doctor will assess your condition and provide you with quality foot and ankle treatment.
Stretching the Feet
Stretching the muscles in the foot is an important part in any physical activity. Feet that are tight can lead to less flexibility and make you more prone to injury. One of the most common forms of foot pain, plantar fasciitis, can be stretched out to help ease the pain. Stretching can not only ease pain from plantar fasciitis but also prevent it as well. However, it is important to see a podiatrist first if stretching is right for you. Podiatrists can also recommend other ways to stretch your feet. Once you know whether stretching is right for you, here are some excellent stretches you can do.
Using a foam roller or any cylindrical object (a water bottle or soda can will do), roll the object under your foot back and forth. You should also exert pressure on the object. Be sure to do this to both feet for a minute. Do this exercise three times each.
Similar to the previous one, take a ball, such as a tennis ball, and roll it under your foot while seated and exert pressure on it.
Grab a resistance band or towel and take a seat. If you are using a towel, fold it length wise. Next put either one between the ball of your foot and heel and pull with both hands on each side towards you. Hold this for 15 seconds and then switch feet. Do this three times for each foot.
Finally hold your big toe while crossing one leg over the other. Pull the toe towards you and hold for 15 seconds. Once again do this three times per foot.
It is best to go easy when first stretching your foot and work your way up. If your foot starts hurting, stop exercising and ice and rest the foot. It is advised to then see a podiatrist for help.
If you have any questions, please feel free to contact our office located in Farmington and Berkley, MI. We offer the newest diagnostic and treatment technologies for all your foot care needs.
Read more about Stretching Your Feet
Monday, 07 May 2018 00:00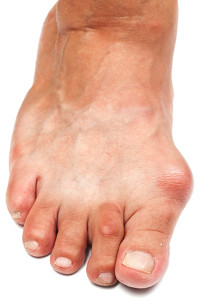 Bunions are typically the result of a bone deformity that affects the toes. The big toe typically leans toward the second toe, and this may cause a bump to form on the bottom of the big toe. Fluid may develop in the surrounding joint, in addition to the skin becoming thickened. This is often a painful condition, and as a result other ailments such as arthritis may develop. Research has shown that it's beneficial to wear proper shoes that can accommodate the bunion and possibly diminish the pain and discomfort. Relief options may include using adequate padding over the bunion for protection, and wearing shoes that can adjust to the width of your foot. For bunions that have become extremely painful and unmanageable, surgery may be an option to consider. It's suggested to schedule a consultation with a podiatrist to learn about the best treatment options for you.
If you are suffering from bunion pain, contact Dr. David Ungar of Personal Foot Care. Our doctor can provide the care you need to keep you pain-free and on your feet.
What is a Bunion?
Bunions are painful bony bumps that usually develop on the inside of the foot at the joint of the big toe. As the deformity increases over time, it may become painful to walk and wear shoes. Women are more likely to develop bunions since they often wear tight, narrow shoes that shift their toes together. Bunion pain can be relieved by wearing wider shoes with enough room for the toes.
Causes
Genetics – some people inherit feet that are more prone to bunion development
Inflammatory Conditions - rheumatoid arthritis and polio may cause bunion development
Wearing Improper Footwear - shoes that are narrow and pointed
Symptoms
Redness and inflammation
Pain and tenderness
Callus or corns on the bump
Restricted motion in the big toe
In order to diagnose your bunion, your podiatrist may ask about your medical history, symptoms, and general health. Your doctor might also order an x-ray to take a closer look at your feet. Nonsurgical treatment options include orthotics, padding, icing, changes in footwear, and medication. If nonsurgical treatments don't alleviate your bunion pain, surgery may be necessary.
If you have any questions, please feel free to contact our office located in Farmington and Berkley, MI. We offer the newest diagnostic and treatment technologies for all your foot care needs.
Read more about Bunions