Are Broken Toes a Serious Condition?
Monday, 10 December 2018 00:00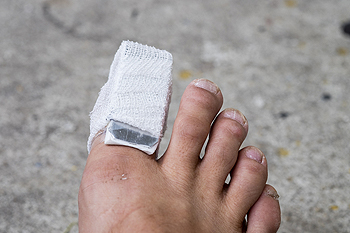 The bones in the toe are known to be fragile, and may easily break if a foot injury occurs, or if something heavy is dropped on it. A broken toe is serious if the bone is protruding through the skin, which may make an infection likely to occur. There are common symptoms that people may experience if they have broken a toe, including stiffness in the toe and surrounding area, pain, swelling, or bruising that may gradually disappear. If something heavy was dropped on the toe, the nail bed may become bruised as a result of the injury, which will diminish as the nail grows. It may be beneficial to demonstrate care in performing specific daily activities including walking and jogging until the toe is completely healed, which may take up to six weeks. If you have broken your toe, please consult with a podiatrist to learn about correct treatment options.
Broken toes may cause a lot of pain and should be treated as soon as possible. If you have any concerns about your feet, contact Dr. David Ungar from Personal Foot Care. Our doctor will treat your foot and ankle needs.
What Is a Broken Toe?
A broken toe occurs when one or more of the toe bones of the foot are broken after an injury. Injuries such as stubbing your toe or dropping a heavy object on it may cause a toe fracture.
Symptoms of a Broken Toe
Swelling
Pain (with/without wearing shoes)
Stiffness
Nail Injury
Although the injured toe should be monitored daily, it is especially important to have a podiatrist look at your toe if you have severe symptoms. Some of these symptoms include worsening or new pain that is not relieved with medication, sores, redness, or open wounds near the toe.
If you have any questions, please feel free to contact our office located in Farmington and Berkley, MI. We offer the newest diagnostic and treatment technologies for all your foot care needs.
Read more about What to Know About a Broken Toe