Blog
Monday, 13 August 2018 00:00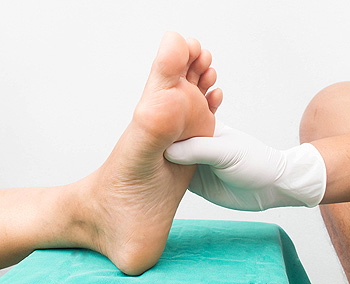 Diabetic neuropathy is a condition that may develop as a result of having diabetes. Many patients with diabetic neuropathy experience different symptoms, which may include a tingling or burning sensation, extreme sensitivity, or severe numbness. The latter may often cause the person that is afflicted with neuropathy the inability to feel pain, which may contribute to not noticing when cuts or wounds develop. There may be several ways to prevent this condition from developing or getting worse. These can include checking blood pressure frequently; this may aid controlling nerve damage. Research has shown it may be beneficial to cease smoking, which may aid in managing poor circulation. Losing excess weight may also be beneficial, as this may take added pressure off the feet. Please consult with a podiatrist as quickly as possible if you are experiencing any symptoms that are indicative of neuropathy.
Neuropathy
Neuropathy can be a potentially serious condition, especially if it is left undiagnosed. If you have any concerns that you may be experiencing nerve loss in your feet, consult with Dr. David Ungar from Personal Foot Care. Our doctor will assess your condition and provide you with quality foot and ankle treatment for neuropathy.
What is Neuropathy?
Neuropathy is a condition that leads to damage to the nerves in the body. Peripheral neuropathy, or neuropathy that affects your peripheral nervous system, usually occurs in the feet. Neuropathy can be trigged by a number of different causes. Such causes include diabetes, infections, cancers, disorders, and toxic substances.
Symptoms of Neuropathy Include:
Numbness
Sensation loss
Prickling and tingling sensations
Throbbing, freezing, burning pains
Muscle weakness
Those with diabetes are at serious risk due to being unable to feel an ulcer on their feet. Diabetics usually also suffer from poor blood circulation. This can lead to the wound not healing, infections occurring, and the limb may have to be amputated.
Treatment
To treat neuropathy in the foot, podiatrists will first diagnose the cause of the neuropathy. Figuring out the underlying cause of the neuropathy, whether it be diabetes, toxic substance exposure, infection, or others, will allow the podiatrist to prescribe the best treatment. If the nerve has not died, then it's possible that sensation may be able to return to the foot.
Pain medication may be issued for pain. Electrical nerve stimulation can be used to stimulate nerves. If the neuropathy is caused from pressure on the nerves, then surgery may be necessary.
If you have any questions, please feel free to contact our office located in Farmington and Berkley, MI. We offer the newest diagnostic and treatment technologies for all your foot care needs.
Read more about Neuropathy
Monday, 06 August 2018 00:00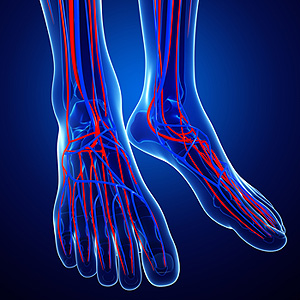 If you have poor circulation in your feet, it may be indicative of unnoticed health issues. The circulatory system may be negatively affected if you sit for extended periods of time, are obese, or if moderate exercise and stretching is not part of your daily routine. Recent research has shown that a condition, which is referred to as atherosclerosis, may be a common cause of poor circulation in the feet. This may be a result of the arteries becoming narrow, which may lead to blockages in the legs. A common symptom of this ailment may be a loss of feeling in the toes or some patients may experience a tingling sensation. Some preventative measures may include a healthy dietary change added to a routine exercise regime. If you have symptoms of poor circulation in the feet, please consult with a podiatrist for additional information.
While poor circulation itself isn't a condition; it is a symptom of another underlying health condition you may have. If you have any concerns with poor circulation in your feet contact Dr. David Ungar of Personal Foot Care. Our doctor will treat your foot and ankle needs.
Poor Circulation in the Feet
Peripheral artery disease (PAD) can potentially lead to poor circulation in the lower extremities. PAD is a condition that causes the blood vessels and arteries to narrow. In a linked condition called atherosclerosis, the arteries stiffen up due to a buildup of plaque in the arteries and blood vessels. These two conditions can cause a decrease in the amount of blood that flows to your extremities, therefore resulting in pain.
Symptoms:
Some of the most common symptoms of poor circulation are:
Numbness
Tingling
Throbbing or stinging pain in limbs
Pain
Muscle Cramps
Treatment for poor circulation often depends on the underlying condition that causes it. Methods for treatment may include insulin for diabetes, special exercise programs, surgery for varicose veins, or compression socks for swollen legs.
As always, see a podiatrist as he or she will assist in finding a regimen that suits you. A podiatrist can also prescribe you any needed medication.
If you have any questions, please feel free to contact our office located in Farmington and Berkley, MI. We offer the newest diagnostic and treatment technologies for all your foot care needs.
Read more about Causes Symptoms and Treatment for Poor Circulation in the Feet